Audio-based online learning platform Omnicourse, which Turkish investors describe as the "Spotify of eLearning", reached a valuation of one-million US dollars. It was only after receiving a pre-seed investment from infamous Turkish YouTuber Orkun Işıtmak, Omnicourse got the attention of big guys in the region and as of this week officially funded by the Angel Effect.
"Give knowledge a voice" is the official motto of this yet-to-be-released Omnicourse app. Founders Muhammed Furkan Yılmaz, Ali Kemal Şerbetçi, and İsmail Şerbetçioğlu created this idea after attending a startup community event where industry specialists and entrepreneurs gathered around. Turkish entrepreneurs built their MVP in a mere six weeks after coming up with the idea.
The main problem with video-based online learning platforms, such as Udemy, is that a high percentage of courses taken by the user will probably not be finished/or the duration between the starting and finishing of those video courses will not be ideal. Omnicourse suggests a simpler and easy-to-consume model for eLearning that no major player has yet to try out; audio-based online courses.
These audio courses can be a 5-minute learning bit or a 3-hour full-length course. The latest numbers show that Omnicourse has already signed deals with more than 200 content creators, most of whom will create English-spoken lessons. Turkish startup will release its client app soon as soon as finishing up with their latest investment.
Omnicourse will pay 40% of its revenue to creators according to how long their content is listened to by minutes. Its Creator and Recorder apps are also in the works for supporting its community of lecturers even more. These Turkish businesspeople know that creators will play a major role in their journey to creating a successful learning platform.
Audio courses will be the next big thing in the eLearning market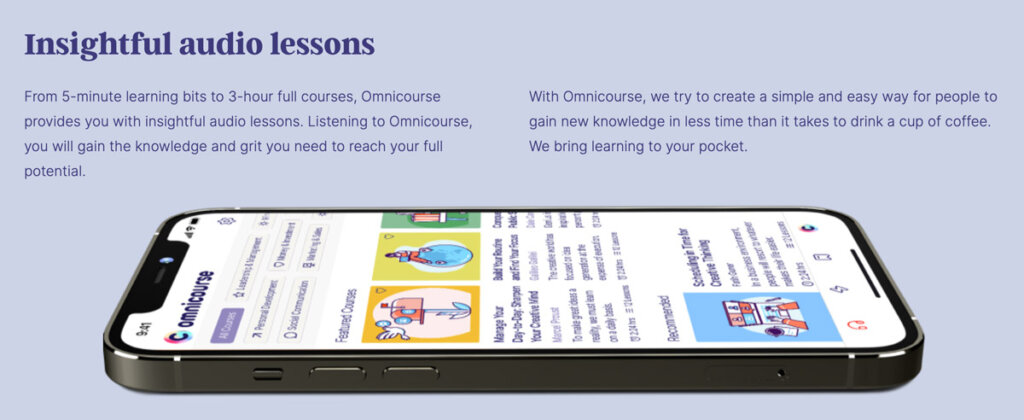 The online learning market reached a market cap of $144bn right before the coronavirus pandemic hit in 2019. The most recent market analysis report indicates that eLearning will be a $374bn worth market in five years, this growth will be supported by multi-national companies as well as big countries such as the United States, China, EU, and also emerging African countries.
To sustain the growth of the eLearning platform, the market needs new ideas based on different ways of learning. Audio courses will probably be the next big thing in this field, as a podcast and speech-based social networking's rise will approve. Omnicourse is one of the first platforms that use audio-based eLearning, and their recent investor appeal clearly shows that this Turkish startup is on the right track.