Introduction
The purpose of this ecosystem review is to pique your curiosity in the MENA startup ecosystem. I will do my best to provide a high-level overview of the startup ecosystem in Saudi Arabia and the United Arab Emirates.
The MENA region (Middle East, North Africa) is becoming a hub for technology-based companies. Several factors contribute to the region's growing popularity as a startup launchpad (1). The United Arab Emirates (UAE), Saudi Arabia, and Egypt were the region's three most essential marketplaces for venture capital (2). As investment levels continue to drop this year, startups in Mena raised $173 million across 51 agreements (3). When compared to the previous month, this is a drop of 54%, and when compared to the same time last year, a drop of about 50% in investment value.
Investors in the region still feel the consequences of the global economic crisis, which has led to increased inflation and a decrease in IT stocks.
The United Arab Emirates came out on top, with $1.85 billion invested in 250 separate projects. Egypt earned the second most significant number of transactions, totaling 180 worth $736 million, a massive 70% gain compared to 2021, while Saudi Arabia came in second with $987 million raised over 153 projects (a 40% rise in investment value).
Incubation programs, accelerators, and government financing are just a few examples of how local governments in the area are helping to foster growth in the startup ecosystem. Global investors are becoming increasingly interested in the region, which is good news for entrepreneurs since they will have easier access to the capital and other resources they need to expand. E-commerce, financial technology, and supply chain management are just a few of the booming industries that have sprung up in response to the abundance of digital firms in the area. These fields might benefit significantly from new developments and help propel economic expansion.
Nonetheless, there remains a long way to go before the ecosystem achieves the degree of maturity seen in other locations. MENA Region has notably grown over the past few years, and experts predict this trend will continue.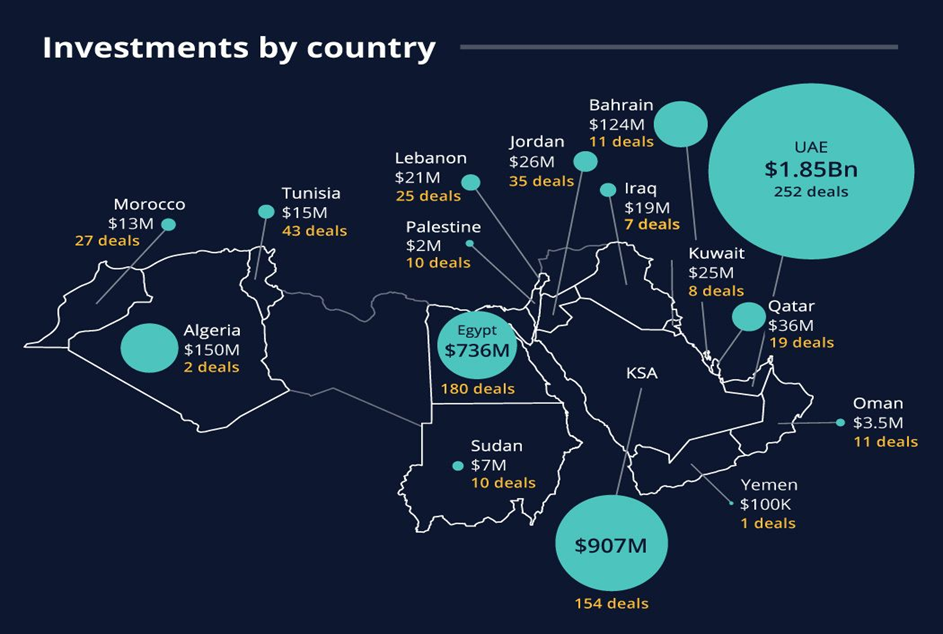 Saudi Arabia Startup Ecosystem
Saudi Arabia's Ecosystem is growing day by day. This growth happened in 2018 till nowadays, like evolution. Saudi Arabia is fascinating to learn about the startup ecosystem. Not only for their growth, but their unicorns are also interesting ecosystem points. The startup environment in Saudi Arabia is expanding fast, and it places a premium on cutting-edge technology and originality. The government has invested much money into the industry via initiatives like company accelerators and incubators, and R&D spending. The government has also enacted measures that facilitate new company creation and expansion.
Investing in startups reached an all-time high last year, with $548 million raised across 139 transactions. Despite the epidemic, Saudi Arabia has increased its funding by 270% from the previous year, making it the region's second most financed nation. By 2021, each month would have more startup financing than the year before 2016. The annual investment rate for new businesses in the Kingdom of Saudi Arabia increased from $8 million before 2016 to $150 million. For its part, Riyadh's startup ecosystem is a bright spot, having grown significantly over the last five years to become one of the top five in the MENA area, with a total value of $1 billion.
The ecology was already functioning by the first year of the epidemic. The online grocery platform Nana secured $18 million in Series B financing in March 2020. In December, roadside assistance platform Morni secured $9.1 million in a Series B round of funding. In June, meal delivery company Jahez closed a Series A funding round for $36.5 million. The first half of 2020 saw more financing for Saudi-based startups than any other sub-sector, with the majority of that money going into e-commerce, the contemporary visionary's sandstone. Furthermore, in April 2021, buy-now-pay-later startup Tamara announced a $110m Series A, one of the most significant startup investments ever in the MENA area.
In Saudi Arabia, many accelerators, incubators, and entrepreneurship programs have emerged to help startups and entrepreneurs gain exposure, increase productivity, and make connections. Although it is still tricky for Saudi Arabian startups to gain the attention of venture capitalists, these programs are proving to be highly beneficial for startups seeking capital and other assistance.
Here is a list of the 8 best accelerators and incubators in Saudi Arabia (4).
KAUST Innovation Fund; The KAUST Innovation Fund is a venture financing organization focusing on early-stage firms and startups. They are interested in fintech, solar tech, fintech, environment tech, AI, robotics, material & chemical sciences, and health tech. KAUST has made 86 investments for its startups till now.
Company of Business Incubators and Accelerators (BIAC Incubators); BIAC Incubators has extensive experience running a business incubator, from construction to administration. Every field of startups can apply for the BIAC program. BIAC has made 4 investments for its startups till now.
TAQADAM; TAQADAM is an accelerator for MENA-based businesses that offers coaching, debt financing, and workshops for startups. TAQADAM has made 4 investments.
SURE International Technology; Since 2004, SURE International Technology has been a business that operates in the following sectors: Angel Investment, IT, PIA, Software, and VC.
Riyadh Valley Corporation; Since 2010, Riyadh Valley Company has been a Saudi Arabian venture capital firm that helps businesses in their early stages and those growing. Riyadh Valley Company has put money into 6 different places.
Falak Business Hub; Falak Business Hub is an all-in-one solution that combines elements of an accelerator, an incubator, a coworking space, and an angel investment company. They are giving 20 weeks acceleration program. They have made 3 investments.
Nomow Incubator; The Nomow Seed Investment Program provides support and funding for creative business owners and their ground-breaking ideas. They made 3 investments till now.
Startups House; Startups House is a place in Saudi Arabia that helps start and grow businesses. The duration of the accelerator is 24 weeks.
The startup ecosystem in Saudi Arabia may benefit from the country's recent efforts to make it more attractive to global investors and workers. Innovation and entrepreneurship in Saudi Arabia have been bolstered by the government's Vision 2030 program, which seeks to diversify the economy and lessen the country's reliance on oil.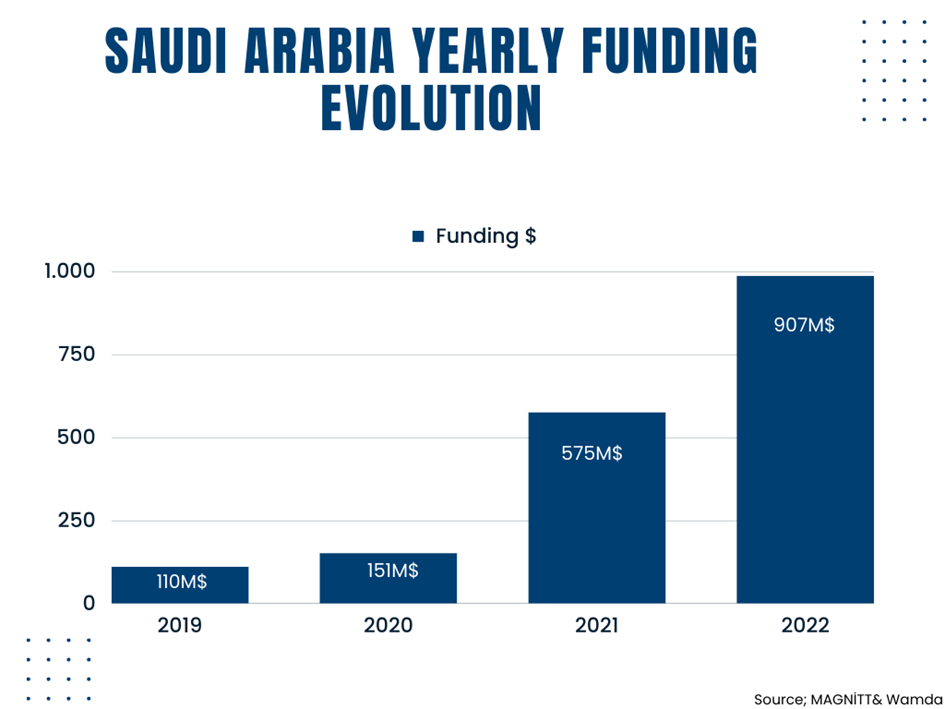 The charts show the historical progression of Saudi Arabia's development. The ecosystem saw a growth rate of %220. Total funding of 987 million dollars is expected to be raised in Saudi Arabia by 2022, and the company, TruKKer, is closing fast on the one-billion-dollar threshold. With a 72% increase in venture capital financing over 2021 and 97% of last year's deals closed Saudi Arabia set a new milestone for VC activity (5).
Global Entrepreneur Congress 2022
GEC is an incredible event that brings together hundreds of thousands of startups and technology entrepreneurs annually. It is possible to see his contribution to Saudi Arabia with numbers. Most of the Kingdom's ministers were present at the GEC, demonstrating a commitment to innovation and entrepreneurship, a deep understanding of its significance as an economic force, and committing some $13.8bn in investment to promote entrepreneurial activity over the years ahead to fuel further growth. In addition, many government agencies demonstrated that they work together to foster an environment where entrepreneurship may flourish, a rarity among national governments. To encourage this kind of teamwork and single-mindedness, the country's Vision 2030 has established lofty goals for the entrepreneurial ecosystem, such as doubling the contribution of small enterprises to GDP by 2030.
Most importantly, Saudi Arabia's decision to host the GEC demonstrated a strong desire to interact with the international community in search of foreign investment, networks, communities, and best practices for building an economy driven by entrepreneurs in the aftermath of a pandemic. The Global Entrepreneurship Network places a premium on fostering thriving environments for new business ventures to flourish in, and our research has repeatedly shown that interconnected ecosystems experience exponentially higher rates of new venture creation and economic value creation. Achieving this milestone without sacrificing the integrity of the Kingdom's cultural norms is a major accomplishment.
A service to global leaders who, after three years, had forgotten the need for personal interaction was provided by Saudi Arabia's readiness to welcome so many countries. It required guts to convene such a meeting, and thousands of delegates will always remember how GEC in Riyadh was the first time they met people their age following the devastating outbreak. We hope to hear stories of even further expansion at the next GEC, to be held in Melbourne in May of 2023,
United Arab Emirates; New Technology Capital City of MENA
U.A.E. is considered the MENA region's pioneering area with the launch of the 2022 investment fund. Why is this happening in the United Arab Emirates? Under this heading, we'll do our best to comprehend the UAE's seeming prosperity.
There isn't a single industry that hasn't seen the epidemic`s effects after the epidemic recession, but new businesses have taken the worst damage. However, the United Arab Emirates (UAE) startup ecosystem has held up surprisingly well, considering the country's reputation as a center for venture capital financing. The government is now prioritizing fostering the growth of homegrown enterprises and creating 20 unicorns by 2031 (6). Unicorns might be created in the following years due to new rules that encourage the participation of people with diverse skill sets in the economy, such as programmers, freelancers, and bankers.
The United Arab Emirates (UAE) developed the Entrepreneurial Nation project to provide aid through a network of public-private partnerships that facilitates business establishment. Skill-Up Academy, Startup Track, and Scale-Up Program are the three pillars of the newly developed project. Consequently, UAE is focusing on helping firms that are at least three years old and have been generating revenue rapidly scale up and become unicorns. Global corporations like Google and Meta, as well as regional ones like Etihad, are partners of Entrepreneurial Nation. Over $150 billion in FDI is targeted over the next decade by the UAE's Projects of the 50 programs. Together with this, based on the most recent data from the Dubai Chamber, the United Arab Emirates is in the lead.
The startup community is the sole recipient of the million-dollar grant. UAE Minister of State for Entrepreneurship and Small and Medium-Sized Enterprises Ahmed al-Falasi recently announced the launch of a private equity fund with an initial investment of $272 million (Dh1 billion) to help local entrepreneurs and SMEs expand their operations across the Middle East
The United Arab Emirates (UAE) garnered $20.7 billion in foreign direct investment (FDI) in 2018, placing it first in the Arab world and nineteenth in the world (7). Several economic, legal, and social changes have been implemented to entice talented employees and businesses to establish or extend their operations in the country.
The United Arab Emirates (UAE) has announced changes to its immigration policies and business regulations to entice a more significant number of foreign nationals to settle in the country. It proposes providing capital in stock, direct loans, and loan guarantees to encourage startup and entrepreneurial activity. Several industries, including the food and healthcare industries, are receiving regional investments. Approximately $108 million is being contributed to Chimera Capital and Alpha Wave joint venture fund by Alpha Dhabi Holding.
Accelerators, VCs, and incubators are essential for helping new startups take flight. There is a growing ecosystem of accelerators, incubators, and entrepreneurship programs in the United Arab Emirates, all to boost the country's startup and entrepreneurial ecosystem by facilitating greater visibility, efficiency, and networking opportunities. Startups in the United Arab Emirates find these programs very helpful in their search for funding and other forms of support. Also, venture capital firms support this organization from outside very fruitfully.
The top 8 accelerators and incubators in the United Arab Emirates are presented here (8).
Faster Capital: Faster Capital operates online as a startup incubator, accelerator, and service provider. Faster Capital supports and works with startups and small enterprises worldwide. They have made 152 investments until now.
Intelak; Intelak is a leading startup hub in the United Arab Emirates that focuses on the aviation, travel, and tourism sectors. They have both an incubator for early-stage and a late-stage accelerator. Emirates, Microsoft, and Accenture are among the corporations that contribute to funding both of their programs.
Wamda; Wamda is the provider of digital media platforms and a startup accelerator to support entrepreneurs across the MENA region. They made 53 investments until now. In their portfolio is the first SaaS unicorn of Türkiye platform Insider and Martı, the biggest mobility platform of Türkiye.
DIFC FinTech Hive; DIFC FinTech Hive is a collaborative space that brings together prominent institutions and players from the region's financial industry with innovative new businesses. They have made 42 investments to contribute to the ecosystem.
Womena; Womena is a multi-dimensional media organization that advances gender equality by disseminating forward-thinking material and providing chances for female entrepreneurs. They have made 12 investments to empower to build an equal ecosystem for startups.
Techstars Hub71; Techstars Hub71 is the accelerator's name, in Abu Dhabi. Techstars Hub71 made a total of 22 investments till now.
Dtec; The largest tech startup coworking campus in the Middle East. Dtec is a significant player in the UAE startup ecosystem.
Krypto Labs; Krypto Labs accelerates and incubates startups. Startups from any sector are accepted. It rents monthly co-working space. Abu Dhabi hosts the accelerator.
Even Supy, a UAE-based digital firm, has just acquired $8 million in venture capital financing to expand its technology and make it easier for restaurants and suppliers to do business together.
Dubai's fintech sector has been continuously reinforced thanks to the city's efforts to recruit top talent worldwide. Sheikh Hamdan bin Mohammed bin Rashid Al Maktoum, Crown Prince of Dubai and Chairman of the Dubai Executive Council has launched a $100 million Venture Capital Fund to provide further incentives for aspiring businesspeople to set up shop in the Middle East. Approximately 8,000 additional employees, primarily in the financial technology industry, would be created due to the Venture Capital Fund.
Even though small and medium-sized businesses (SMEs) are crucial to the economy, providing them with financial backing falls on the government and banks. The chairman and managing partner of Jitendra Consulting Group, Jitendra Gianchandani, thinks a venture fund is a fantastic idea since it would help businesses get off the ground and attract more investors and entrepreneurs from all over the world. Pemo, a financial technology business in Dubai, has secured $12 million in venture capital, while Tabby has raised $54 million.
To help advance the fintech industry in the UAE, Mashreq has invested in the banking-as-a-service firm NymCard. The bank's venture fund invested NymCard to foster the development of fintech companies in the area.
Earlier in July, Dr. Thani Al Zeyoudi, Minister of State for Foreign Trade, stated that the country's goal under the first phase of the NextGenFDI initiative is to attract 300 digital companies within six months to a year, with a particular emphasis on companies led by data scientists, computer programmers, and digital asset entrepreneurs.
Conclusion
In conclusion, the startup ecosystems in Saudi Arabia and the United Arab Emirates have rapidly expanded and transformed over the past few years, with increased investment, support, and innovation. By providing tax exemptions, funding opportunities, and streamlined regulations, the two countries have been working to foster a favorable environment for the growth of startups. This has led to the establishment of several successful startups in various industries, including fintech, e-commerce, healthcare, and education, among others. MENA region responded very well to the aftermath of the pandemic outbreak in 2020. When the crisis hit globally, MENA opened up investment opportunities and cultivated a better startup environment for global enterprises to bring in talent abroad within business and technology scope. With its interconnected and sophisticated ecosystems for startups and businesses, the region's new ventures and economic value creation are expected to have a positive trend in the upcoming years.
MENA region is a new cake in the middle of the room, and it is getting more and more attention and attraction globally. With the strong government policies toward startup and technology development, within several years MENA region, especially the UAE and Saudi Arabia, will gain popularity of being the new center of startups and technology hubs next to America and Europe. MENA region will bring in both startups and investors to grow, and even the numbers are now exponentially increasing toward higher development and better accessibility, hence with this positive outlook, MENA region has a bright future for startups, investors, and also technology development for the world which we can see it coming within the next several years.
Resources